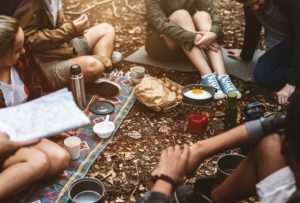 Camping Essentials Checklist; When camping a solid checklist is a must if you plan to get the most out of your adventure. The right checklist can make or break how long you can stay on site. For me the less travel and the more I get to enjoy the outdoors, the fire, and hanging with family.
Campsite Basics
While this may seem like common sense, many people tend to neglect the basic essentials of a campsite. Whether you are car camping, backpack camping, or camping some other way, the following items should never be left out of your basic camping kit.
Tent – Size dependant on # of people
Sleeping Bag(s) – Again, dependant on # of people
Tarp or Tent Footprint – Keeps moisture away from your tent floor
Bug Spray – Type will depend on location
Flashlight(s) – At least 1 of each, Floodlight, Headlamp, Handheld, and Lantern
Fire Starter(s) – Wind-Proof matches, Lighter, Flint/Ferro Rod
First Aid Kit – Self Explanatory
Now, this may seem like an overly simple list, but if you have these basic items you can get a campsite up and running. I know, I know, but I need food, water, etc. or I am a survivalist I don't need a tent or sleeping bag. We will get into the food and water here shortly and if you are a survivalist, well this post isn't for you.
Campsite Tools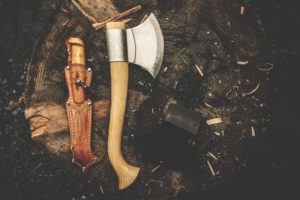 This can be a somewhat controversial topic depending on the type of camping you are doing, but for the purposes of this post I usually car camp or backpack and will usually have some form of all these tools.
Hatchet – I tend to stick with something that is 14oz or below.
Folding Pruning Saw – You won't believe how often you will use this
Camp Knife – No Cheap Walmart Crap!
Multi-Tool – Any Leatherman or likewise will do, but make it a needle nose plier
If you are car camping you can always pack more tools, but these are the must-haves in my opinion, and can be expanded on based on your needs.
Campsite Cookware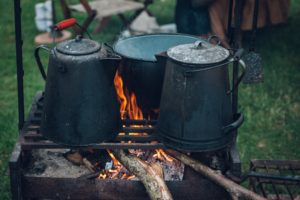 Now, this is a topic that is always interesting, because there are so many products out there and so many tools you could have. I like to keep my cookware pretty basic, but utilitarian enough to be used for other purposes if need be. One example of this is the Ka-bar Spork. While this to some may seem stupid, the fact that this is two tools and EXTREMELY lightweight makes it an amazing product.
Cooking Stove & Fuel – Size will depend on the type of camping and # of people
Utensils – Fork, Knife, Spoon, or Spork(s)
Pots & Pans – Stanley Brand makes some nice packable cookware
Drinkware – at least 1 Stainless Canteen (to boil water if necessary)
Cooking Utensils – IE. Wooden Spoon, Spatula, etc.
You can always add to this list, like the good ole Folding Toaster and a Coffee Percolator or Press, but if you are backpack camping weight is always an issue. If possible get things that are packable to help reduce the size and allow you to carry more stuff. Also, it may seem like a daunting task, but take note of the weight of each item, this will come in handy if you are backpack camping.
Campsite Food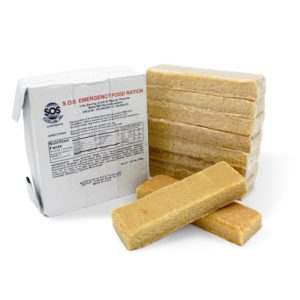 I said earlier I will touch on this subject and here it goes. If you are car camping this is less important, but it is something that should be thought about regardless. What happens if a critter or worse a person comes to your campsite and steals your food supply? Having a good supply of backup food sources is always a must whether you are car camping or backpack camping. The following list will focus on backup food and not a primary food source, because well, you should already know what food you like and how many people you need to feed.
MRE – Meal Ready to Eat ( These may not always taste the best, but they are easy to pack, lightweight, and provide a good calorie count. Many are self-heating)
Emergency Rations – These are basically calorie bars for survival situations
Trail Mix – Great options and easily available. Can provide a good amount of nutrients if to keep you going
Water Tablets – This is in case you run out of drinking water & water is a requirement to stay alive
Energy Bars – These are a great option because many are high in protein and are easy to throw in pockets and packs
Emergency Food – Wise Company or similar emergency food, usually dehydrated and requires water, but tastes great and very packable.
Water Filter – Sawyer, Lifestraw, etc.
Now, these are not designed to be your main food source and you should always have a way to either catch or kill your own food in the case of emergency. These are basically back-up options for if food is not available or if finding your own food is proving more difficult than it should. The average human needs roughly 1200 calories a day to maintain muscle and mental strength. Water can be the difference between life and death.
Campsite Misc Items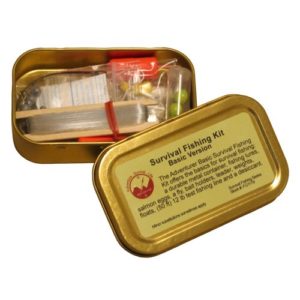 These are just a few things I like to always have on-hand as they can usually be packable and extremely useful in all type of scenarios.
Packable Jacket (Rain/Wind)
Tweezers
Fishing Kit
Shemagh
Paracord
Hiking Stick (Collapsible)
Signal Mirror
Two-Way Radios
Conclusion
In closing, these are just my essentials that hopefully you can use as a starting point for your own checklist. You may not see a need for some of the items, but I urge you to really look at some of these and how they can help you during your camping excursions. My final note would be to Get Out and Camp! Camping is fun no matter your age and can be a great bonding experience for you and your family or friends.
Thanks for reading!