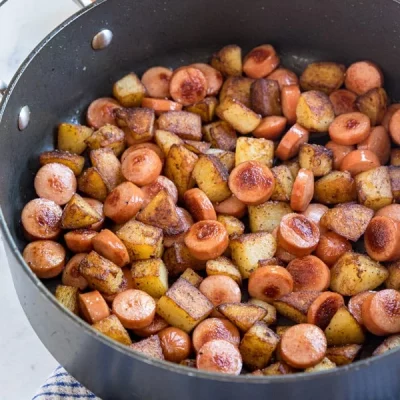 Sausage/Hotdog Potato Supper
Depression Era Supper using Sausage or Hotdog and Potato. Cheap hearty meal to keep you going through the toughest of times!
Ingredients
1

lbs

Sausage or Hotdog

6

medium

Yukon or Russet Potatoes

1

large

Onion (chopped)

1 1/2

tbsp

Butter

1

tbsp

Salt

1/2

tbsp

Pepper

1

tsp

Garlic Powder

1

tbsp

Cooking Oil

Can use any oil you like, I like to you Avocado or Olive Oil, but Vegetable or Canola work just fine also.

1/2

cup

Grated Parmesan Cheese (optional)
Instructions
Cube the potatoes and place them in a large mixing bowl. Sprinkle with a pinch of Salt and Garlic Powder.

Chop the onion to the desired size, and place them in a small bowl; 1/4 to 1/2 inch pieces work great.

Slice the Sausage or Hotdog to desired size; again 1/4 to 1/2 inch thick pieces work great.

In a Large Skillet, add cooking oil over medium-high heat; Add potatoes to the skillet and begin to cook. Halfway through add in butter, onion, Sausage or Hotdog, and remaining salt, pepper, and garlic powder. Continue cooking till Sausage or Hotdog and Potatoes begin to brown.

Serve on a plate and sprinkle Grated Parmesan Cheese on top if desired! Enjoy!
Notes
This recipe is a modified version of a very old depression era supper. It is a staple in my house it is a great quick, cheap, and hearty meal! Served with Corn Bread it is absolutely perfect!